Our mission is to improve collaboration and interaction between young professionals within Endocrinology
Laatste update:
24 augustus 2017
Met medewerking van:
Charlotte Heinen
Who are we?
The Young NVE is an association within the NVE that represents young medical professionals with an interest in endocrinology. We bring talented and enthusiastic young professionals together during our events and create an inspiring environment in which new collaborations flourish. The board of Young NVE consists of ten enthusiastic PhD students, postdocs and medical doctors who work in the field of endocrinology. They each are affiliated with one of the seven academic medical centers in the Netherlands to appropriately represent young medical professionals from all over the country.
Our main goals
Improve interaction and collaboration between everybody who is in the early stages of their career with an interest in endocrinology, such as master students, PhD students, postdocs, young medical doctors and internal medicine specialists, gynecologists, pediatricians and clinical chemists in training with interest in endocrinology.
Organize a yearly conference that consists of presentations of research projects and case reports (after abstract submission) by young participants as well as lectures by well-known (inter)national invited speakers and workshops about career, publication and grant application.
Organize a session at the yearly Dutch Endocrine Meeting where 3 young talents get the opportunity to give a more elaborate presentation
 Collaborate with other organisations of young endocrinology researchers such as the European Young Endocrine Scientists (EYES, the young delegation of the European Society of Endocrinology).
Find us on  LinkedIn!
JNVE congres 2023
The 9th JNVE conference is approaching!
The conference will take place on the 28th and 29th of September at Crowne Plaza Utrecht.
This event brings together renowned speakers, interactive seminars, participant presentations, networking opportunities and a delightful dinner! Immerse yourself in knowledge shared by highly-rated speakers on captivating topics such as circadian rhythms, islet cell transplantations, lifestyle medicine, brown adipose tissue, and more!
Join our workshop on making an impact, where you will learn strategies and practical tools to create a meaningful difference in your field. Gain valuable insights and skills to drive positive change.
The registration deadline for the conference is September 21st.
And do not forget to submit your abstract before September 4th. The best abstracts will be selected for an oral presentation giving the talented researchers the opportunity to receive valuable feedback from fellow professionals and experts. During the conference, the JNVE Young Talent Award will be presented to the best young speaker. This award consists of €250 and a certificate.
For registration and abstract submission, visit our website.
NVE Proefschrift prijs
Vanaf 2016 reikt de NVE de een NVE Proefschrift prijs uit. Deze wordt elk jaar tijdens de Dutch Endrocrine Meeting uitgereikt.
Hiervoor roepen wij u op om een wetenschappelijk excellent proefschrift op het gebied van de Endocrinologie te nomineren, waarvan de verdediging in het afgelopen jaar heeft plaats gevonden. De auteur van het proefschrift is lid van de NVE.  De prijs is een geldbedrag van 1500 Euro en een schitterende oorkonde.
Stuur ten behoeve van de jury één pdf-bestand van het proefschrift per mail naar het secretariaat van de NVE.
Meer informatie over de NVE Proefschriftprijs kunt u hier vinden.
JNVE congres 2022
The 8th JNVE conference is approaching!
This year, the conference will take place on the 27th and 28th of October in the beautiful Crowne Plaza in Utrecht (Central Station). The conference will offer a varied program with special focus on transgender care (by dr. C. Wiepjes), lipid metabolism (by dr. G. Goossens), muscle metabolism (by dr. J. Hoeks) and thyroid disorders during pregnancy (by dr. T. Korevaar).
We will additionally take a step back from science itself and focus on how to present you scientific findings during a presentation workshop.
There will be sessions for participants to give an oral presentation about their latest work.
The registration is now open, and you can submit your abstract via the website
The deadline for submitting an abstract is September 4th.
We hope to see you soon!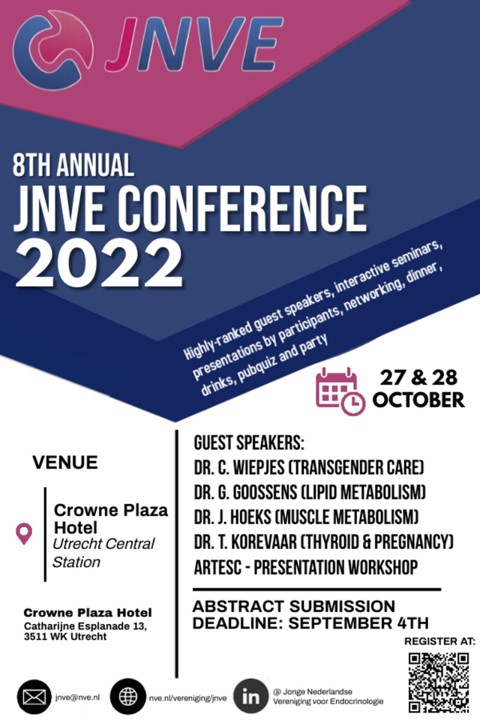 JNVE congres 2021
This year, the congress will take place on the 11th and 12th of November in the beautiful Crowne Plaza in Utrecht (Central station).
The registration is open, and you can submit your abstract or case report via the website.
The deadline for submitting an abstract and registration is September 17th.
This has been an uncertain year for live conferences, but it looks like we can attend in person, which of course makes the conference extra special. The large location allows for 1.5 meters of distance and the evening program is Corona-proof. If the situation changes and the conference cannot take place, the registration costs will be fully refunded.
We hope to see you soon!
JNVE congres 2020
Registration is open – upload your abstract!
The seventh JNVE congress is approaching! This year the congress will take place on 22 and 23 of October, in the beautiful Van der Valk Hotel in Nijmegen-Lent.
The registration is open, and you can submit your abstract or case report via the NVE conference website: https://congres.nve.nl/
The deadline for submitting an abstract is September 1. The registration closes September 17.
This has been an uncertain year for live conferences, but it looks like we can still attend in person, which of course makes the conference extra special. Due to the large location, 1.5 meters of distance can be guaranteed and the evening program is Corona-proof. If the situation changes and the conference cannot take place in person, the registration costs will be fully refunded.
We hope to see you soon!
Save the date – 22nd and 23rd of October
The seventh JNVE conference is approaching!
Our last meeting in Nijmegen was a highly successful one. We had an extremely diverse program, with subjects ranging from basal to more clinical oriented research. A total of 12 young and enthusiastic researchers presented their work. Just to name a few, there was a talk explaining the zebrafish model as a good alternative to the widely-used mouse model, as well as a talk telling us about reference values for T4 and TSH in the heel prick test. Moreover, a couple of guest speakers joined our conference. An interactive seminar by Prof. Sjoerd Reppinga (AmsterdamUMC) thought us how to present your research in the media. Another highly interesting lecture by dr. Ines Foessl from the University of Graz (Austria) thought us about micro-RNAs as a marker for osteoporosis. Dr. Sabine Hannema (LUMC) and dr. Teun van Herwaarden (RadboudUMC) gave an interactive lecture regarding disorders of sex development. Collectively, a very interesting and successful conference!
Also, we would like to congratulate Nour El-Sayed (ErasmusMC) on her price for the best presentation.
We are looking forward to meeting you all at our conference this year.
More information to follow.
JNVE congres 2019
Save the date – the sixth JNVE conference is approaching!
It will take place at October 10th and 11th. After our wonderful stay last year, this year the conference will again be hosted by the spectacular Van der Valk Hotel Nijmegen-Lent.
The conference will offer a varied programme with special focus on new types of treatment for, and cardiorenal protection in diabetes type 1 (by Dr D. van Raalte), and management of disorders of sex development in pediatric endocrinology (by Dr S. Hannema). We will additionally take a step back from science itself, and focus on the presentation of medical data to media, with a talk by a true expert on the subject, Prof Dr S. Repping.
Register and submit your abstracts at the NVE conference site: https://congres.nve.nl/
Registration is closed.
JNVE congres 2018
Succesvol vijfde congres: de JNVE groeit!
Op 25 en 26 oktober 2018 vond het vijfde congres van de Jonge Nederlandse Vereniging voor Endocrinologie (JNVE) plaats. Ditmaal was er gekozen voor een schitterende locatie in Nijmegen. De opkomst van jonge enthousiaste onderzoekers en clinici was hoger dan ooit.
Onderwerpen die aan bod kwamen varieerden sterk: van de genetische achtergrond van het Prader-Willi-syndoom tot activatie van bruin vet. Opvallend veel aandacht was er voor hormoonbehandelingen bij transgenderpersonen. Zo blijkt de mortaliteit van transgendervrouwen hoger te zijn dan die van niet-transgendermannen en -vrouwen van dezelfde leeftijd. In totaal hebben 27 jonge onderzoekers inhoudelijk sterke presentaties gegeven. Daarnaast was er een zeer interessante lezing van dr. Henriette Kirchner van de Universiteit van Lübeck over obesitas. Hieruit bleek duidelijk dat epigenetisch bepaalde obesitas voor een groot gedeelte intra-uterien ontstaat, en dat dit zelfs twee generaties later nog effect kan hebben. Dr. Tim Korevaar sprak over het belang van continue maten van maternale schildklierfunctie; hij stelde dat hypo- en hyperthyreoïdie even schadelijk zijn voor de intelligentie van het kind. Stof tot nadenken, met name voor aankomende moeders!
Zoals traditie is geworden, werd in de avond een pubquiz georganiseerd, waarbij de kennis van de deelnemers op de meest uiteenlopende vlakken, waaronder endocrinologie, getest werd. De quiz werd gevolgd door een feest met als thema 90's now!, waarbij goed gebruik werd gemaakt van de dansvloer.
De JNVE-award voor beste presentatie ging naar de jongste deelnemer aan het congres: slechts 21 jaar! Sebastiaan van Meyel (Erasmus MC Rotterdam) kreeg de prijs voor zijn presentatie over pasireotide long-acting release (LAR) als behandeling van dopamineresistente prolactinoma.
Komende en gaande bestuursleden
Na een tweetal mooie jaren als voorzitter nam dr. Mariëtte Boon (LUMC) afscheid van het JNVE-bestuur. In de afgelopen jaren heeft zij een enorme inzet getoond en met haar enthousiasme voor talrijke mooie momenten gezorgd. Namens het hele bestuur willen wij haar heel hartelijk danken voor alles wat zij voor de JNVE heeft betekend. Mariëtte zal opgevolgd worden door Anouk van Berkel (Radboud UMC Nijmegen).
Daarnaast hebben wij afscheid moeten nemen van Margreet Vonk Noordegraaf (Erasmus MC; inmiddels werkzaam bij ICT-Uitvoeringsorganisatie ofwel ICTU) en Mark van Treijen (UMC Utrecht). Ook hen bedankt het JNVE-bestuur voor hun inzet en enthousiasme. Nieuw bij het bestuur aangesloten zijn dr. Eva Coopmans (Erasmus MC), José van den Heuvel (Meander MC Amersfoort) en ondergetekende (LUMC).
JNVE congres 2017
JNVE conference 2017 photos online!
On October 27th and 28th 2017, the fourth JNVE congress took place at the Holiday Inn Hotel in Leiden. We were very pleased to see so many participants!
24 abstracts were presented on various subjects. Again we were surprised (and proud) by the high quality of research in so many fields within the endocrinology in our country. Young researches presented their own research and five invited speakers gave very inspiring presentations. Prof. Ron de Kloet and Pim the Ronde gave very interesting overviews on the psychoneuroendocrinology of stress and steroid abuses in athletes. Dr Carmelo Quarta (Helmholtz Zentrum Munich) flew over from Germany to give us the latest update on the role of the endocannabinoid system in our metabolism. dr Baptist Trimbos 'hit' the audience with an inspiring talk titled "how to give a talk with impact".
In the evening, tension increased and all competitive skills were used to win the famous JNVE pubquiz. Dressed to the theme – Oktoberfest – we danced the night away on sparkling beats, hot salsa, a little bit of schlager and mysterious dance songs from countries far away….
At the end of the congress, Drs. Stan Ursem (VUmc) won the JNVE 2017 award for his outstanding presentation "The interrelation between FGF23 and glucose metabolism in humans".
Our fourth congress was a great success! The input of all the PhD students, post-docs, residents in endocrinology, master students and spreakers led to many fruitful discussions, fresh ideas and new cooperation's. Eventually, that is what it is all about! We hope to see you all again the last weekend of October!
Last updated 10 March 2018 by Mariëtte Boon
JNVE congres 2016
JNVE conference 2016 a success!
​​The 3rd JNVE conference held in the Holiday Inn Hotel in Leiden at October 27 and 28 was a big success! A total of 42 participants joined the conference and 23 abstracts were submitted and excellently presented. We also enjoyed the presentations by the several invited speakers, amongst which the young Christoph Thaiss from Tel Aviv who gave an inspiring talk about his research on microbiome and obesity. In the evening, we held an exciting battle during the Pubquiz, which was followed by a scary Halloween party. During the second day, the JNVE presentation prize was awarded to Bas Uitbeijerse (LUMC, Leiden) on his talk entitled 'Fasting relative proinsulin secretion as a marker for beta cell secretory strain and beta cell function in patients with type 1 diabetes'. According to the evaluation forms, you were all very positive about this 3rd edition of the conference and would recommend this meeting to colleagues. We are very happy with this result! ​
Pictures of the JNVE conference can be found under JNVE –> JNVE conference –> Pictures. The date for the ​4th JNVE meeting ​will be announced during the Dutch Endocrine Meeting, hope to see you all there! Also, you are all welcome to join the JNVE session ​during the DEM, with the central theme Stress and Metabolism.
Nieuws
BijnierNET
Bestuurslid Thamara Osinga is op 3 februari j.l. gepromoveerd op feochromocytomen en bijniergangliomen. Lees hier meer over haar proefschrift! http://www.bijniernet.nl/2016/03/onderzoek-doe-je-samen/
JNVE congres 2015
JNVE congres 2015 een succes
Op 29 en 30 oktober 2015 vond het tweede congres plaats van de Jonge Nederlandse Vereniging voor Endocrinologie (JNVE) in het Holiday Inn Hotel in Leiden.
Het congres werd geopend door drs. Rahel Büttler, voorzitter van de JNVE, die ook een overzicht gaf van de inbedding van de JNVE tussen andere Europese verenigingen voor jonge endocrinologen.
Het congres besloeg een variëteit aan endocrinologiegerelateerde onderwerpen; van het effect van geslachtshormonen op botstofwisseling tot nieuwe methoden om lichaamseigen bruin vet te activeren, en omvatte zowel klinisch als basaal onderzoek. Vele voordrachten boden stof tot levendige discussies. Naast de jonge onderzoekers hielden vijf gerenommeerde nationale onderzoekers een langere voordracht. Onderwerpen waren circadiane controle van hormoonritmes (prof. dr. Andries Kalsbeek, AMC), translationeel onderzoek in schildklierhormoonregulatie (dr. Edward Visser, Erasmus MC), bruin vet en metabolisme (prof. dr. Wouter van Marken Lichtenbelt, Universiteit Maastricht), androgenen en oestrogenen in de context van transgenders (prof. dr. Martin den Heijer, VUMC) en een introductie op BijnierNet (dr. Lisanne Smans, UMCU). In een interactief seminar schepte dr. Olaf Dekkers (LUMC) duidelijkheid én verwarring over de waarde van de P-waarde.
Tijdens het goed bezochte avondprogramma werd door middel van een 'pubquiz' de kennis van de deelnemers op uiteenlopende vlakken, inclusief endocrinologie, getest. Aan het eind van het congres werd de winnaar van de JNVE 2015 award voor beste voordracht uitgereikt. Deze eer, evenals 250 euro, ging naar drs. Guido Bakker (AMC) voor zijn onderzoek Fecal microbiota transplantation used to improve postprandial bacterial translocation; the RALSTONIA study, dat hij met veel passie en humor presenteerde.
Nieuwe voorzitter JNVE bestuur
De opkomst voor het tweede JNVE congres bedroeg 58 deelnemers en overtrof daarmee het aantal van het eerste JNVE congres. Tevens heeft Rahel Büttler, voorzitter en oprichter van de JNVE, afscheid genomen als voorzitter omdat zij haar carrière in Oostenrijk zal voortzetten. Namens het hele JNVE bestuur gaat grote dank uit naar haar inzet en enthousiasme afgelopen anderhalf jaar. Zij zal opgevolgd worden door Mariëtte Boon (LUMC). Verder verwelkomt het JNVE twee nieuwe bestuursleden, te weten Mariska Vlot (VUMC) en Dirk van Moorsel (MUMC).