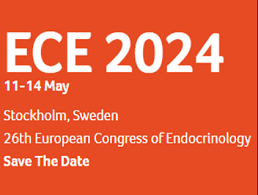 ESE (European Society of Endocrinology) is excited to announce that abstract submission and registration for the European Congress of Endocrinology (ECE 2024) is now open! The Congress, which you can join either in person in Sweden or online via ECE@Home, provides an excellent opportunity to share your expertise and knowledge in the ever-changing field of endocrinology.
Taking place between 11-14 May 2024 in the beautiful city of Stockholm, Sweden, you can enjoy networking with fellow endocrine specialists, researchers and experts from across Europe. The event will be rich with opportunity and potential to meet leaders within the field, as well as catch up with old friends and make new ones.
You can view the programme highlights and you may also wish to join one of the five pre-Congress events.
To find out more information about how to submit your abstract, to register at the discounted Super Early Bird rate, or to apply for a meeting grant, visit ECE 2024.
ECE 2024 KEY DATES AND DEADLINES
Abstract submission deadline: 22 January 2024 (23:59 CET)
Super Early Bird registration deadline: 25 March 2024 (23:59 CET)
Early Bird registration deadline: 22 April 2024 (23:59 CEST)
Congress: 11-16 May 2024