Conference Advanced Technologies & Treatments for Diabetes 2020
29 november 2019
19 – 22 February 2020, Madrid, Spain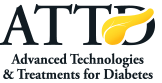 Early Registration Deadline: 4 December 2019
ATTD 2020 will showcase the latest, world-changing, innovations and research in Technologies & Treatments for Diabetes.
Be a part of the ATTD initiative, where clinicians, diabetes care providers, researchers, industry partners, start-ups, investors and reimbursement authorities convene with the aim to promote, support and enhance the development of novel technologies and treatments for diabetes.
Register before the early registration deadline on December 4th, to benefit from discounted registration fees.
Learn more & register online at the website.
Contact
Secretariaat NVE
Domus Medica
Mercatorlaan 1200
3528 BL Utrecht
e-mail: info@nve.nl
tel: 030 – 8990665
U kunt bij het NVE secretariaat geen medische vragen stellen. Neem voor deze vragen contact op met uw huisarts of medisch specialist.
Nederlandse Vereniging voor Endocrinologie
Albinusdreef 2
2333 ZA  LEIDEN
KvK: 40476285
BTW: NL8165.81.939B01
IBAN: NL52INGB0000511341
Social media
Tijdschrift Endocrinologie
Lees verder