Clinical update in genetics and endocrinology series
4, 5 and 6 May 2021 | online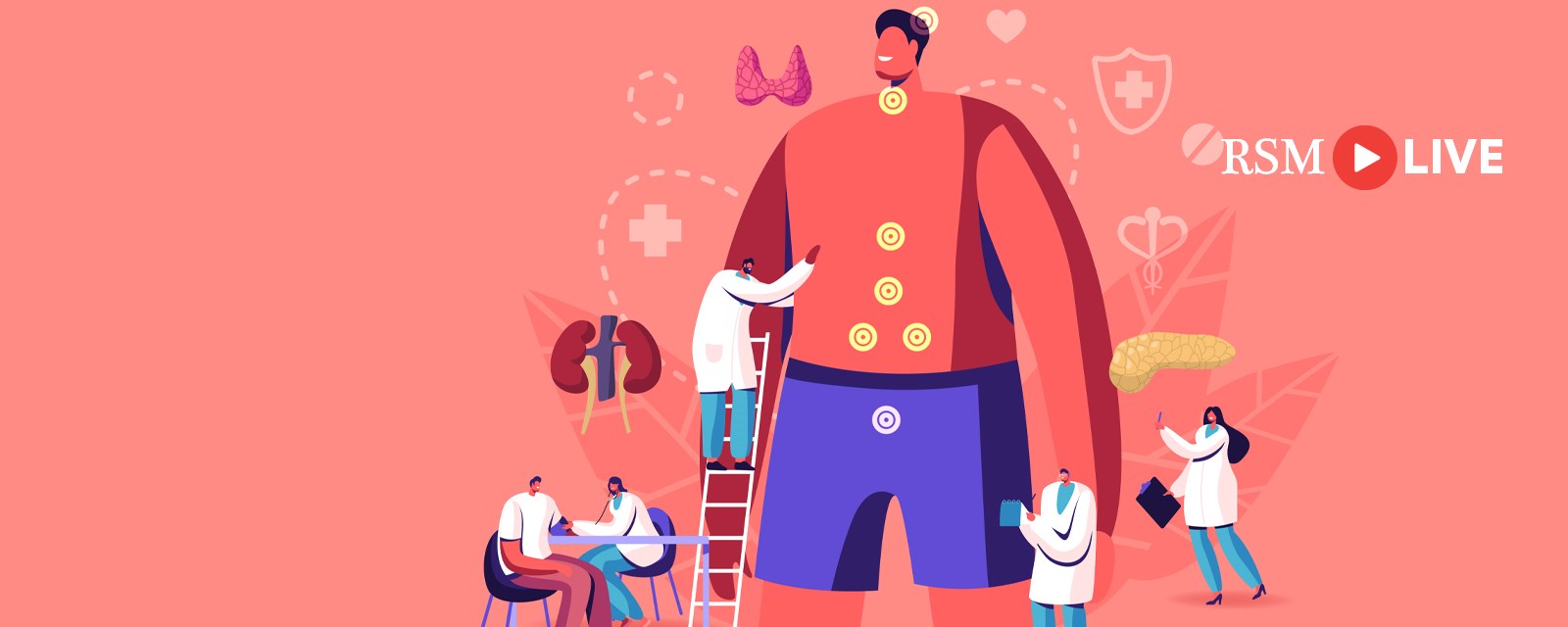 Clinical update in genetics and endocrinology series – discounted series for SFE/ABCD members
Date: 4, 5 and 6 May 2021
Time: 4:30pm to 6:35pm GMT
Price: Free for RSM members and special discount rates for SFE/ABCD members
Non-members: £10.00-£20.00 per webinar. Sign up for all three and get Part 3 for free.
Register now for all 3 webinars.
This three-part webinar will provide an overview of genetics and endocrinology and feature expert speakers across both of these fields. This series is in association with the Society for Endocrinology.
Part 1: In this first webinar, experts in the field of genetics and endocrinology will share their knowledge in genetic testing, variants of unknown significance and genetic disorders in endocrine clinics. Speakers include: Professor Sian Ellard, Genomic Medicine, University of Exeter Medical School, Rachel van Heugten, Healthcare Scientist, Royal Devon and Exeter NHS Foundation Trust, and Professor Sadaf Farooqi, Metabolism and Medicine, University of Cambridge. Register now ►
Part 2: In this second webinar, expert speakers in the field of genetics and endocrinology discuss genetics of pituitary tumours, phaeochromocytomas and paragangliomas. They will also explore the appropriate approach for patients with Multiple Endocrine Neoplasia syndromes. Speakers include: Professor Marta Korbonits, Endocrinology and Metabolism, Centre Lead for Endocrinology, Barts and the London School of Medicine and Dentistry, Queen Mary University of London, Dr Ruth Casey, Consultant Endocrinologist in Cambridge University Hospital NHS, and Dr Paul Newey, Clinical Senior Lecturer, Molecular and Clinical Medicine, University of Dundee. Register now ►
Part 3: In this final webinar, specialists unite to discuss adopting a multifactorial approach for therapeutics and whether cardiologists and nephrologists should be able to prescribe sodium glucose transporter-2 inhibitors (SGLT2i). Speakers include: Nadia Schumakers, Sasha Howard and Professor Mehul Dattani, Head of Paediatric Endocrinology, Great Ormond Street Hospital for Children. Register now ►
**If you can't make the time or date of a webinar don't worry. As long as you register before the date of the webinar we will send you the recording afterwards, so you can catch up whenever it is convenient for you.**
Dit bericht is afkomstig van The Royal Society of Medicine.