Endo-lezingen in het Erasmus MC
Hieronder volgt een overzicht van de endo-lezingen die in het Erasmus MC worden gehouden.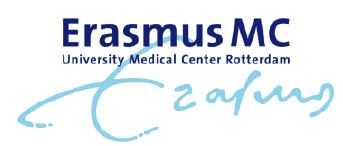 16 May – The Pink Adipocytes, Saverio Cinti
20 June – Internalization of G protein-coupled receptors and its implications in health and disease, Davide Calebiro
12 September – The versatile tanycyte: a hypothalamic integrator of reproduction and energy metabolism, Vincent Prevot
3 October – How about going with Ocytocin – The Sweet Hormone, Gareth Leng
14 November – The elusive genetics of Small-Intestinal neuroendocrine tumors, Peter Stalberg
12 December – The emerging importance of ultradian glucocorticoid rhythms, Stafford Lightman
U kunt hier het volledige programma vinden.
Bezoekers van buiten het Erasmus MC die een lezing willen bijwonen kunnen dat twee dagen van te voren melden bij Annelies van Amen zodat er een bezoekerspas klaargelegd kan worden.
Voor meer informatie kunt u mailen naar Joop Janssen of Marjolein van Driel.