Endo-lezingen in het Erasmus MC
Hieronder volgt een overzicht van de endo-lezingen die in het Erasmus MC worden gehouden.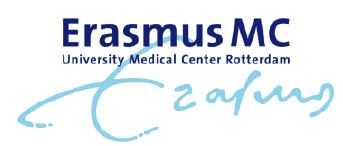 13 February – PI sensing as a determinant of hormonal regulation of PI homeostasis, Laurent Beck
19 March – Controlling corisol in cardiometabolic disease, Mark Nixon
16 April – Stress-Inducible-stem cells: a new viwe on endocrine, metabolic and mental disease, Cynthia Andoniadou
7 May – On the whole body and tissue specific actinos of the novel hormone FGF21, Kostas Tsintzas
18 June – Pituitary cells flashing in the dark: gene regulation goes pulsatile, Julian Davis
17 September – Beat the clock – on the interaction of carcadian rhythms and stress, Henrik Oster
15 October – Cushing's syndrome as a model of endocrine tumorigenesis, Jérôme Bertherat
5 November – THe interplay between sleep and the endocrine system, Abd Tahrani
3 December – Endothelial Cells: New Players in Obesity and Related Metabolic Disorders, Marc Claret
U kunt hier het volledige programma vinden.
Bezoekers van buiten het Erasmus MC die een lezing willen bijwonen kunnen dat twee dagen van te voren melden bij Annelies van Amen zodat er een bezoekerspas klaargelegd kan worden.
Voor meer informatie kunt u mailen naar Joop Janssen of Marjolein van Driel.