Effect van levothyroxine versus placebo op het aantal levend geboren kinderen bij euthyreote vrouwen met herhaalde miskramen en TPO-antistoffen.
T4-LIFE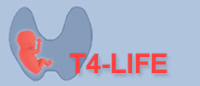 T4-LIFE website: http://www.studies-obsgyn.nl/T4-LIFE/page.asp?page_id=1326
Trial register: http://www.trialregister.nl/trialreg/admin/rctview.asp?TC=3364
Objective
To assess improvement in live birth rate and pregnancy outcome after levothyroxine supplementation in women with recurrent miscarriage and thyroid autoimmunity
Study design
Randomised double blind placebo controlled multi centre clinical trial
Study population
Women with recurrent miscarriage, i.e. at least 2 miscarriages, aged 18-42 years. Women will be recruited in the Netherlands (Coordinating Centre Academic Medical Centre, Amsterdam) and internationally.
Intervention
The intervention group receives levothyroxine, and the control group receives placebo of identical appearance.
Outcome measures
Primary outcome measure: live birth rate.
Secondary outcome measures: miscarriage rate, preterm birth, survival at 28 days, effects of levothyroxine.
Power/data analysis
We expect an increase in live birth rate from 55% to 75% (intention to treat population). This is based on a live birth rate from 55% in case of recurrent miscarriage and untreated thyroid autoimmunity14. A high relative risk reduction of 52% for miscarriages was shown in a recent meta analysis for women with thyroid autoimmunity treated with levothyroxine 20.
To detect a Minimally Important Difference (MID) of 20% in live birth beyond 24 weeks (from 55% to 75 %), with an alpha error rate of 5% and beta error rate of 20% (i.e. 80% power), 90 women will need to be randomised to the intervention arm, and 90 women to the control arm (180 in total. Assuming and adjusting for a worst case scenario of a loss to follow-up rate of 5%, the total number of participants required will be 200 (100 in each arm of the trial). We expect 15% in each group will have to be excluded after randomisation because of development of (sub) clinical hypothyroidism. To make sure we can account for these drop-outs we will allocate 120 patients to each group.
Contact
Investigators
Myrthe van Dijk, arts-onderzoeker
t4-life@studies-obsgyn.nl
m.m.vandijk@amc.nl
Projectleader/principal investigators
Dr. M. Goddijn, Academic Medical Centre
Dr. P.H. Bisschop, Academic Medical Centre
Prof.dr. E. Fliers, Academic Medical Centre
Prof. dr. J.A.M. van der Post, Academic Medical Centre
Prof. dr. B.W. Mol, Academic Medical Centre
Dr. M. van Wely, Academic Medical Centre
M. van Dijk, Academic Medical Centre
R. Vissenberg, Academic Medical Centre